Tesla Roadster 1.0 Ready for Mars Voyage
From world's fastest sports car to creating re-usable space rocket, reliable electric cars Elon Musk has introduced amazing tech products in the world. Recently Elon Musk made an announcement about sending a sports car to the Mars. It wasn't taken seriously as people thought he didn't mean it, but Musk literally meant every word of what he said.
Elon Musk and SpaceX have joined hands for this project of sending a sports car to Mars. They revealed some snaps of the of the original Tesla roader that is attached to a "fitting and placed between the two halves of the payload fairing that caps the rocket."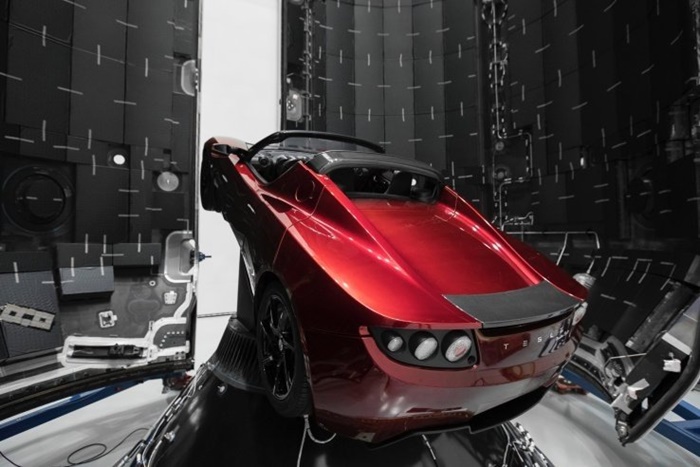 As per the images revealed it seems that Falcon Heavy space rocket is in its final testing phase. It will be the strongest most powerful rocket ever created with its three boosters.
Elon said, "A Red Car for the Red Planet Test flights of new rockets usually contains mass simulators in the form of concrete or steel blocks. That seemed extremely boring. Of course, anything boring is terrible, especially companies, so we decided to send something unusual, something that made us feel. The payload will be an original Tesla Roadster, playing Space Oddity, on a billion year elliptic Mars orbit."
So quite soon we will witness Tesla Roadster 1.0 on Mars voyage.
It's not the first time Elon Musk fulfilled what he said and ensured that if he says something he will do it. Previously Elon Musk took a bet with the Australian people that he will build a 100MW battery in just 100 days, otherwise, it will be free. It was in July he made the bet. Tesla completed its task and what is more Musk did it with 40 days to spare.
Media coordinator and junior editor at Research Snipers RS-NEWS, I studied mass communication and interested technology business, I have 3 years experience in the media industry.