Oppo: Oppo Ace2 gets a Limited Edition inspired by Neon Genesis Evangelion
In late April the Oppo Ace2 went on sale in China, originally available in three colours. Now Ice Universe has revealed the phone's Evangelion Limited Edition with some pretty minimalist decals on the back.
Also read: Gilgit Baltistan Govt. Decides to Relax the Lockdown till Eid
The NERV logo is lifted straight from the show; for more details, you can dig through the Fandom wiki. Neon Genesis Evangelion has long been around so there is a rich backstory. This phone is in fact celebrating the series' 25th anniversary, which premiered back in 1995.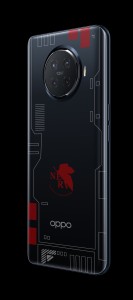 The release of the fourth film in the tetralogy of "Rebuilding the Evangelion" has been postponed due to the pandemic, although it is not clear whether that will affect the launch of the limited edition phone. As for the price, expect the base model to cost something more than CNY 4,000 ($565).
Also read: MPA Syed Fazal Agha Lost his Life Due to Coronavirus
Under the limited-edition exterior, the Oppo Ace2 remains unchanged. That means the same 6.55 "1080p+ AMOLED, a refresh rate of 90Hz with HDR10+, Snapdragon 865 chipset, 48MP main camera, an 8MP ultra-wide camera. Perhaps the most impressive part is the fast charging support: 65W wired, 40W wireless (the charging pad is sold separately), and 10W reverse wireless, all extracting from the 4000mAh battery.
I am currently working as a writer/author with Research Snipers RS-News. I have more than 4 years of experience in the same field of reporting and coordinating in a media company. I am passionate about the latest technology, Artificial intelligence, Data science.