Three Mobile Customers Targeted By Scammers Across The UK
Scammers are targeting Three Mobile users across the UK in a recent wide-ranging phishing scam that could potentially steal personal details.
According to the experts at Cofense, scammers are out there targetting the users of the network, which has over ten million customers across the UK. Customers of the network have been served emails asking for sensitive data such as usernames, passwords, contact information, and even credit card numbers.
Also read: Scientists oppose the UK's use of Behavioral Science to curb COVID-19
The email is dressed as authentic, almost to perfection. The research from the Cofense Phishing Defense Center (PDC) shows an email sent to a customer from the "[email protected]" domain regarding a bill payment that could not be processed.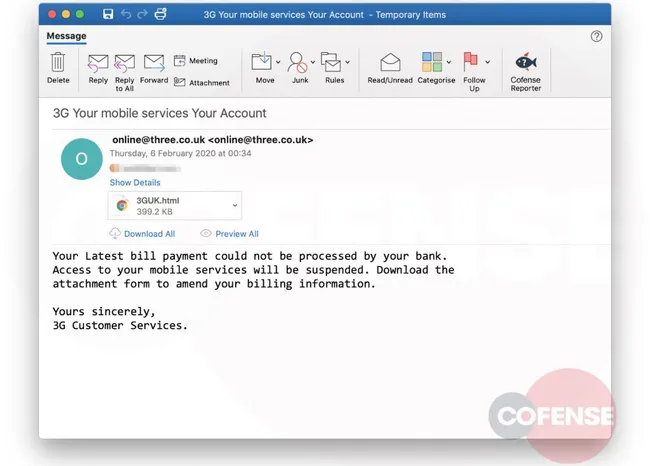 Then the customer is asked to download the HTML file "3GUK[.]html" to edit his billing information to avoid suspension of the services. However, opening this file landed the customer to a fake page where he was urged to enter his login data, including passwords along with credit card details and personal information.
Also read: A guide to avoid the worst of scams in the worst of times
Cofense urges that the page is close to the authentic page and furnished with links to legitimate web pages. The company suggests that customers should always be wary of the content they receive in their mailboxes. Users should abstain from clicking on links from suspect sources and make sure that they have an up-to-date antivirus and browser security solution in place to curb incoming threats.
I am currently working as a writer/author with Research Snipers RS-News. I have more than 4 years of experience in the same field of reporting and coordinating in a media company. I am passionate about the latest technology, Artificial intelligence, Data science.