GeekBench: Redmi Note 10 With The Upcoming Dimensity 820 Chipset Benchmarked
Mediatek announces a new chipset on Monday, a Xiaomi Redmi Note 10 has recently been certified by TENAA and the same phone has now appeared on GeekBench with an as-yet unofficial Mediatek SoC-the stars align nicely, we 're counting.
Also read: Ubisoft sued Apple & Google over sale of Rainbow Six 'carbon copy' Area F2
About a dozen entries in the database of the benchmark feature the Xiaomi M2004J7AC, the specific model number we saw in the listing of the Chinese regulator and an M2004J7BC as well. The 'A' model is called 'atom' by the code name, while the 'B' model is called 'bomb.'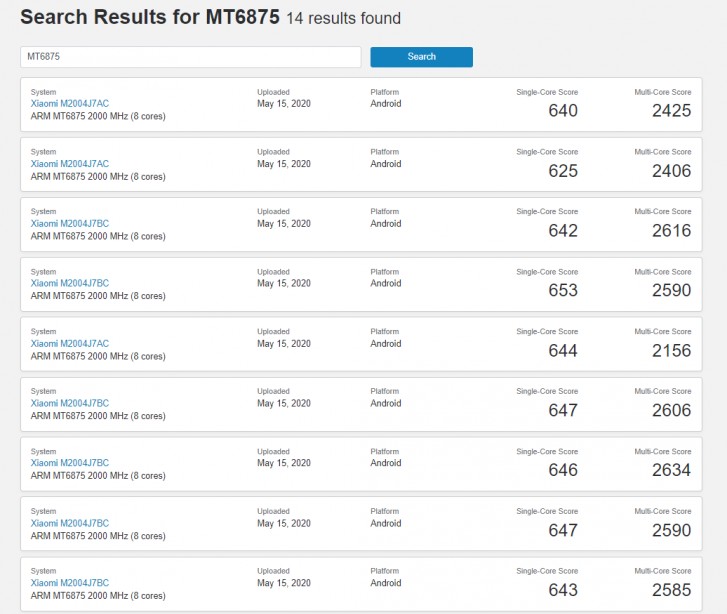 Both devices are powered by a Mediatek MT6875 chipset which is an unannounced SoC and very likely the frequently rumored Dimension 820 which we expect in a few days. Its octa-core base CPU frequency is listed in the benchmark files at 2.0GHz, whereas the TENNA entry specified 2.6GHz but the second number could very well be the ceiling the chip will reach. Both versions on GeekBench have RAM 8 GB, and run Android 10.
Also read: Punjab reduces public transport fare by 18%
In the single-core test, the benchmark scores settled on around 640 units and 2600 units in the multi-core for the Bomb, with the Atom posting slightly lower multi-core figures-in the 2400s. Looking at the database, the results of the new SoC are just below the last-gen Snapdragon 855 flagship of Qualcomm-not half bad.
We are expecting to have more information on Monday's Mediatek Dimension 820 when it will go official. As for the Redmi Note 10, well, one should probably follow very soon after that.
I am currently working as a writer/author with Research Snipers RS-News. I have more than 4 years of experience in the same field of reporting and coordinating in a media company. I am passionate about the latest technology, Artificial intelligence, Data science.